Written by:
Joey Sylvester
August 8, 2011
| Categories:
Blog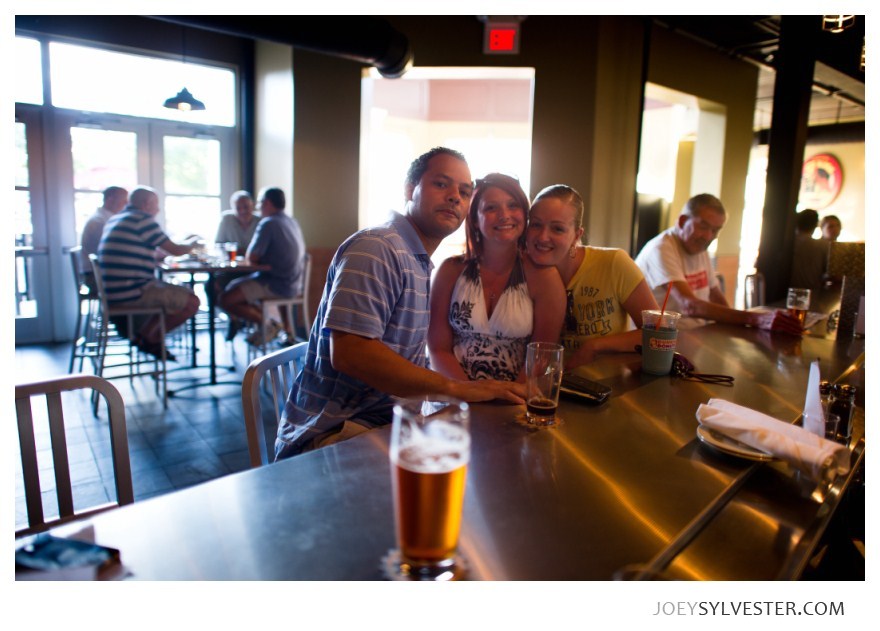 We started things off at a place that had a bit of history between Jess n Vito. Before the Shoot we were off to a wonderful start by forgetting some important equipment back home. It's a good thing the very talented and beautiful Jennifer was on hand and nice enough to run back and grab it for us! After enjoying some healthy conversation and laughs at a local brewery, we were OFF!
First and foremost I'd like to thank the two beautiful women that helped tremendously on this shoot. On the left AND below is the exotic love of my life, Corina. And to the right, we have my very talented and beautiful sister, Jen :) There is no way I could have done any of this without their help, so thanks again ladies!
My baby working the light and power pack :) Look at those legs!
We warmed them up to the camera in front of the restaurant, and I happen to really like these shots. They have previously been to the venue quite a few times while dating so I wanted to try and photograph them in a place that had some kind of sentimental value. As you can see from the pictures, they wasted no time in being shy and virtually every photo I took was great. Although there was a few frames with an old creepy guy in the background GRILLING us! But after pretending to take his picture he quickly moved out of the scene =)
Jess n Vito LOVE sport's and competition, so naturally we had to snap a few photo's of them competing against each other! They happily obliged, put their game faces on and went to work!
As we were walking along, my sister had a great idea to take some shots of them on this free standing brick wall. Glad we did, because I think some of these shots really turned out well :)
As you can see, Vito was very happy to lay down and catch some ZzZzz's. From the looks of it, so was Jess :)
It's not hard to tell these two are madly in love! In fact, all I really had to do was sit the two of them down and take the pictures. I wish more of my shoots would go this way :)
A quick game of peekaboo lead us to the very rare and elusive Vito Smile haha.
Leave a reply
Fields marked with * are required